Yay!! It is finally time to post about the.....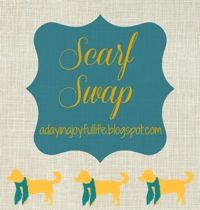 Allie, at
A Day in a Joyful Life
hosted this great swap! I thought it was a great idea since I love scarves so much! I also really enjoy buying for other people!
My partner was Kristin who blogs over at
Kristin's kNook
. She is very sweet! Check out her blog and show her some love! She is all about fashion, crafting and baking to only name a few things! She's pretty funny too!
This is the beautiful scarf she sent me! I just love all the colors!
I don't know why I can't flip this picture for some reason!!













Thank you Kristin, for this beautiful scarf!!