I have been a little MIA lately and I have missed participating in one of my favorite linkups!! This is what I have been up to lately through pictures!! You can find me at
Kris10_favoritethingsblog
on instagram if you would like to follow along!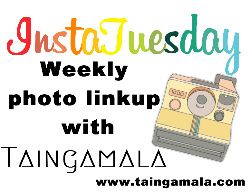 The weather has been beautiful here in Texas! We were all just hanging out on the back patio!
Every Sunday for the last month and a half we have gone to McDonald's around 530 AM to have breakfast together before he goes into work for a few hours before church! I love their apple cinnamon oatmeal!




Making Thanksgiving centerpieces!






Jon and I on Thanksgiving!
My sister in law, Caity!! We were totally wearing the same shirt!!
My family and I went to Dickens of a Christmas in Downtown McKinney!
It's beginning to look like Christmas at the McKee's!!




Went to see the Radio City Rocketts with Jon's family!!
The beautiful sunrise on the way to Canton with my mother in law and sister in law and the day I found out I passed my exam!!
Blog post from Monday! It was an exciting one to write!
This picture is going on our Christmas Card this year!!
My interview outfit yesterday!!
Hope everyone has a great day!! -Kristen