I'm linking up with Neely today for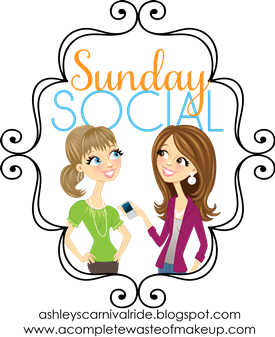 The post this week is all about food! YUM!
If you could only eat one thing for the rest of your life, what would it be?
Pizza!! I love pizza! I could eat it cold or hot, for breakfast, lunch and dinner!! I like my pizza with pepperoni, lots and lots of cheese, green peppers and onions! Yum! This is making me hungry!
What's your guilty pleasure/comfort food?
Honestly, a quater pounder with cheese, french fries and a coke from McDonalds! That doesn't happen very often anymore though :/ I'm "tyring" to stay away from all fast food!
What's the weirdest/craziest thing you've ever eaten?
Rocky Mountain Oysters...and I will never eat them again!
What foods do you avoid at all costs?
Almonds! They make me itchy and give me a red rash. I also avoid olives! Yuck!
Share one of your favorite recipes and the story behind it.
My mom's sausage cassarole! It is so good and cheesy! She always made it when we were growing up because it so easy. As we got older she started adding peppers and onions and it made it even better.
I would like to say thank you to all my followers! I have reached my goal of 20 and now hope to gain another 10! This makes me feel so good and I just love reading all of your comments! Hope everyone had a fabulous weekend!