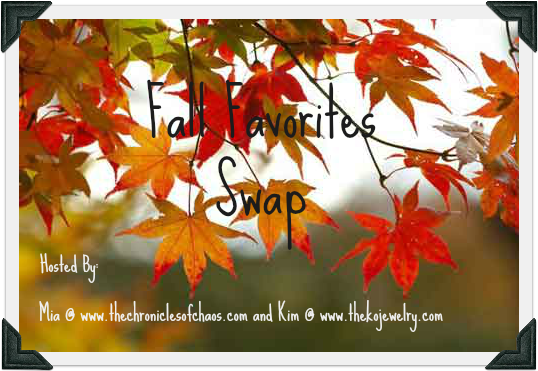 It's time to reveal my swap goodies!! My package came from Rachel over at
Life as Mrs.
I love the earrings! I wore them as soon as I got the package as I was heading out the door and the caramel apple sugar babies didn't last long!
Thanks Rachel for the goodies!!! :)
Now it's time for
High Five for Friday
!! Linking up with Lauren at
From my Grey Desk
.
1. Jon and I spend our first Halloween as a married couple at the Halloween Festival at church. Last year during Halloween I was in Florida completing an internship!
2. I reached 100 followers!! I'm so excited and thank you to all my readers!! I emailed the 100th follower about the prize! Hope to hear from her soon!! :)
3. I hosted my first blog hop!! You can see that
here
! Link up and meet someone new!
4.
Amy
did a guest post for me on
Wednesday
! It was perfect and I thank her for helping me out!!
5. I started running this week!! I'll fill you in on the progress. I'm trying to find more ways to save money and I think I'm going to give up my gym membership and do things at home. I hate the gym anyway and I really want to run a half marathon some day. :) I think I can do it!!
I hope everyone had a wonderful week!! Have any exciting plans for the weekend?