Sorry for the late post. It has been crazy around here and I'm counting down the days til Friday! I believe things will be better around here after that! Hope everyone is having a good week! :)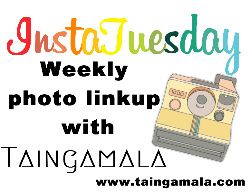 On my way to church to sing with the praise team!
I love trolly rides and seeing them go through our neighborhood, but I seem to always get stuck behind it when I am in a hurry :/
My Fall Mantel! I can't wait to start decorating for Christmas! You can see a better picture of it at The Fall Mantel reveal!
First red cup of the season! Enjoying a Soy PSL :)
I love the voice!! Who are you voting for and what was he wearing??
Ummm yes! This spider was in our bed!!!!!!
I hate folding socks....so I just leave them for Jon :)
Found the kitchen towel and spoon rest at Kroger! I just couldn't pass them up!!

Alright! That is all the pictures I have from this past week!! :) If you aren't following me on Instagram you can find me at Kris10_favoritethings