Today I'm linking up for the first time with Jules at
A Beautiful Day
and Sarah at
City Girl Gone Country
for...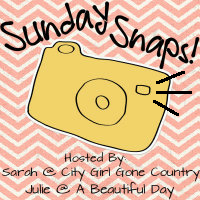 Jon and I slept in a little Sunday morning and I have to be honest, we did skip church. I know, I know.... It was a long week so we just decided to spend the day together and not really have a plan.
It was a nice morning, so we decided to walk downtown where we had a delicious breakfast and checked out a few antique stores. There wasn't too many people out just yet, yep that's what I was thinking too, they were all at church, so we had a nice, peaceful walk.
This is a well known hotel in Downtown McKinney and I've heard the restaurant is amazing!
The yummy breakfast sandwich I had a Snug!!
After we got back home I just couldn't sit still. I'm normally like that. I have to constantly be doing something. My antsieness antsness antsy-ness (oh shoot that is how I'm going to spell it) was about to take the best of me when Jon came up with the idea to play a game of cards. It didn't take long for him to beat me and then the feelings began to return! Uhh! What is wrong with me??
Jon came up with the idea to get his new paint set out and paint a picture. Please, don't judge! It was my first watercolor painting to ever do. I'm also not finished with it. I ran out of white so I would like to add something else when I can get more paint. I'm thinking a sailboat!! I had fun though :) Isn't that what matters? He did a whole lot better than me, but he won't let me share it.
Sorry, I couldn't get the picture to flip for some reason!
What were your Sunday shenanigans?
Have a great week and don't forget to join in on the link up!!!